Do you have a collection of plastic bottles and just do not know what to do with them?!
Well artist Jasmine Zimmerman has the answer – make a plastic house of them!
The structure was used during City Sol Festival in New York and travelled around New York to demonstrate the effects of using single use plastic bottles and how these bottles, plus many other waste products can be reused or recycled.
Tomislav Radovanic, a retired Math professor from central Serbia has built a house of waste plastic. "The house is comfortable and it practically cost me nothing," Radovanovic said, adding that the bottles are good insulators. The foundation is concrete but all else is plastic; gutters, windows and furniture are made from recycled bottles.





Ecological Bottle House, near the Iguazu Falls, Misiones, Argentina.
Alfredo Santa Cruz and his family built this house and matching play house out of used plastic bottles, Tetra Packs and CD cases. They used 1200 PET plastic bottles for the walls, 1300 milk and wine Tetra Pack boxes for the roof, 140 CD cases for the doors and windows, plus 320 PET bottles for the furniture.



200 PET bottles hold up the bed.

Water bottle wall in Danone office, Tokyo.
Great idea as partitions in an office!
The Morimoto Restaurant's bottle wall in NYC is composed of 17,400 half liter plastic bottles filled with mineral water and then backlit with LED lights.
The wall is two stories high.
Do you think is possible to create fashion out of trash? Well, yes it is. 
Indeed, it is entertening, educative and creative. 
RETHINK, REUSE, RECYCLE.
Forum's Fall/Winter 2008 collection during the Sao Paulo Fashion Week.
Belstaff Spring/Summer 2009 men's collection during Milan Fashion Week.
Fashion vest from Recycled Water Bottles.
Sainsbury's recycled plastic collection - Noble Fashion.
Jamie Kuli McIntosh made this ball gown out of the blue plastic protective covering that comes on sheets of plexiglass. The corset underneath is made of 225 mustard packets.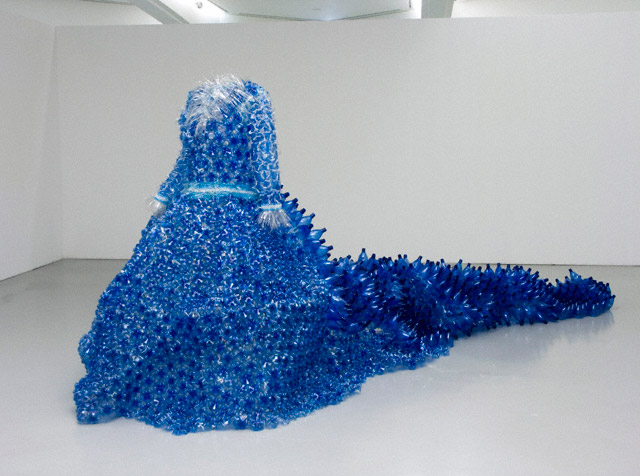 Vestito Blu, Enrica Borghi, 2005. Mineral water bottles, plastic bags, and plexiglas.
This is actually very interesting.
Plastics have influenced every facet of modern life. The extraordinary versatility of the material also has made it a very attractive material for designers, architects, and artists.

But unlike with, say, oil paints, curators and conservators have very little knowledge about the composition and aging of synthetic polymers. This makes their care and conservation difficult, to say the least. 

Take, for example, Enrica Borghi's impressive 2005 work Vestito Blu, made principally from mineral water bottles and plastics bags. It's not known how the various plastics will alter with time, or which display or storage conditions might be the most effective in slowing any potential deterioration. There is an urgent need for information on the composition, physical and chemical properties, and aging behavior of a range of plastics if they are to be treated and preserved for the future.

Thankfully, a large consortium of research laboratories from France, the Netherlands, Denmark, Italy, Slovakia, Slovenia, and the United Kingdom recently received funding from the European Commission to initiate a three-and-a-half year project on the study of plastics.

The project, in which the Getty Conservation Institute (GCI) is a full partner, is called POPART, or the Preservation of Plastic ARTefacts in museum collections. Together, the group aims to develop strategies to improve the preservation and maintenance of plastics objects in museum collections. By coordinating scientific studies and gathering experiences from all partners, the group hopes to establish recommend practices and identify the risks associated with exhibiting, cleaning, protecting, and storing these objects.

The GCI's portion of this project is part of its larger Modern and Contemporary Art Research initiative, which takes a broad approach to the needs of this area of conservation, including a range of scientific research projects and collaborations. 

The hope is that the GCI will be able to add to the body of knowledge on plastics conservation so that pieces like Vestito Blu can be preserved for future generations of museumgoers.
What do you think a toy is?
Something you can play with, right? 
Well, immediately I thought about something for kids. Of course, we have plenty of different plastic toys. They are colorful, cheap, funny, easy to play with..
Actually my interests goes to the plastic recycled toys..so if you surf the web and write "plastic recycled toys" this is what you will find.
I found these creations very fascinating. The designer is  Robert Bratford. An example of a terrier can be seen at Spazio in Mostra, in Milan.
These crazy dogs are made of recycle toys and other colourful bits and pieces of plastic. Bratford uses the recycled toys to create fun, unique, amazing art sculptures. His creative designs have been an international success. He began creating these masterpieces back in 2004. His inspiration came from a box of his children's toys which sat beside him in his work space. Some of his creative artwork includes up to 3,000 toys used for the amazing construction. It is also noted that some of Bradford's work is sold for up to (US) $19,000.
So here it is again, a way to don't waste anything. Children use them toys and then they throw them away and suddenly something that earlier was just for kids becomes a design ojects for adults.
Art is
a human effort to imitate, supplement, alter, or counteract the work of nature.
Virginia Fleck's work takes plastic bag reuse to a whole new level, and the mandala patterns she creates are absolutely breathtaking.
PlasticART project. Mission: "Nobilitare la Plastica".
Steve McPhers. A project using discarded plastic waste found on Britain's beaches.
           PLASTICOBJECTS.PLASTICART.PLASTICTOYS.PLASTICSURGERY.
                  PLASTICDESIGN.PLASTICTECHNOLOGY.PLASTICGARBAGE.
                            PLASTICMAKEUP.PLASTICHOUSES.PLASTICFASHION.
                                    PLASTICHOBBIES.PLASTICTRANSPORTS.
                                                      PLASTICSUSTAINABILITY.
                                            WE LIVE IN A PLASTIC
                                                      RECYCLED
                                                         WORLD
                                                               ! 
What do we have? A chair
How is made by? Plastic
But Why? I don't know, what do you think?
How do you imagine a chair made by plastic materials? 
colorful?
comfortable?
weird?
stylized?
A chair is a piece of furniture consisting of a seat, legs, back, and often arms, designed to accommodate one person.
Lets see two different point of view. I aked at two different designer the same questions. The answers, of course, are different! 
Name: PAWEL GRUNERT
Nationality: Polish
Profession: Designer. He created a lot of furniture-objects, sculptures, internal arrangements.
Creation: SIE43
Produced for the 'Eco Trans Pop' exhibition of ecological design at the Colombari Gallery in Milan, Italy. The chair is made from PET bottles with a stainless steel frame. The bottles can be easily changed if they show signs of damage. The seat is in the form of a flower. The rhythm of hundreds of PET bottles creates an organic structure. An ordinary form is transformed into an extraordinary form, standard form into a unique one.
1. Why did you decide to create this chair and in particular how you create it?
SIE43 was designed especially for Eco Trans Pop exhibition. My idea was to produce a seat-joke from the most popular recycled product that you may find everywhere. Please be adviced that ecology is not my "core business". I use wood, ground, plastic etc, but it's not the ideological activity.
 
2. What did enspire you?
I tried to distance from naive "eco" interpretations. I considered even cow's dung being thrown into each bottle – to underline the joke meaning of the object, as well as get methane blowing up bottles. Finally, I resigned – not everyone has the same rough sense of humor.
 
3. Have you ever used recycled materials before for your creations?
I use various pieces of wood growing in my garden: branches, roots, broken trees etc.
 
4. I know design means communication. What did you want to communicate with this particular creation?
Humor, simplicity, lightness, good design.
 
 ! ! !  Take a look at his site http://www.grunert.art.pl/menu.html
Name: SCOTT JARVIE
Nationality: Scottish
Profession: Designer. He runs a multi-disciplinary design consultancy that engages in product, furniture, spatial and graphic design projects.
Creation: The Clutch Chair
Made from 10,000 drinking straws, the Clutch Chair is an exploratory research piece that passes comment on our disposable culture. The development process of this piece also informed that of the Clutch Light, both of which were developed from an observation of the structural characteristics of trees. 
This piece was selected by Zaha Hadid as her Curators Choice at Noise Festeval 2008
The Clutch Project began as a microscopic observation of the structural composition of trees and the directional properties of Capillary tubes (xylem).
Detail of the seating surface of the Clutch Chair
Ubiquitous drinking straws are grouped and transformed into a primitive spot light. The reflective inner surface of the straw transmits the light in a directional manner creating a jewelesque effect.
1. Why did you decide to create this chair and in particular how you create it?
The chair was created for an exhibition in Milan called the Salone Satellite in 2008.
The straws were individually stuck together and straws of different lengths were joined to create the contoured surface.

2. What did enspire you?
I was interested in the structural characteristics of trees and in particular their directional strength.
I thought that drinking straws might be a way to play with these ideas and the thinking behind the chair informed the development of a light.

3. Have you ever used recycled materials before for your creations?
Treating materials with respect is very important. I always try to be as efficient with material as possible and will always reuse materials where possible.
An example of a project that I used recycled/reclaimed materials was the Languoreth sculptural installation in Partick Interchange Station, Glasgow -where I used travel tickets that were harvested from the building that the piece inhabited.
http://www.scottjarvie.co.uk/languoreth.html

4. I know design means communication. What did you want to communicate with this particular creation?I was curious to see if a chair could be built from something that most people do not associate with a structural application.
I am uneasy with the disposable culture we live in and although it was not my primary focus when creating the piece, I do hope it highlights the scale of waste that we relentlessly produce.
! ! ! The link of his site: 
A film-maker has created a version of the Royal wedding starring plastic dolls from the Early Learning Centre.
In the two-minute animation, miniature figures from the Happyland range depict the roles of Prince William and Kate Middleton, the Queen and adoring crowds during the ceremony on 29 April. 
The bride and groom, both 7cm tall, are driven down in a crowd-lined Mall in a gilt-edged horse-drawn carriage guarded by soldiers. Prince William and Kate Middleton then arrive at Westminster Abbey and marry in front of a small, clapping congregation. The prince wears a black military uniform and his commoner bride a white wedding dress.
They exchange a kiss on the balcony at Buckingham Palace, which appears to be made out of white card.
Scrolling under the footage - made by Jean-Paul Pirie of Deadly Media - are a stream of messages such as: "The Queen is said to be very happy with everything" and "President Obama sends his wishes to the happy couple".
watch the video below and laugh !
WHO?
Johanna Keimeyer.       
WHY?
Because she is a cool, young, interesting and creative designer.
HOW?
By e-mail of course, she is German !!
STEP 1
STEP 2
STEP 3
These lamps come from her collection Recycle Lights. What happened to the ugly bottle of the step 1? Yes, now it looks like a beauty. Johanna definitely thinks before throwing trush away, do you?
Keimeier's Recycle Lights have earned a place in the exhibition "Adventure with Objects" at the Pinacoteca Agnelli in Turin in 2008. 
I THINK IMAGES TELL BETTER THAN WORDS !
WHY DID YOU CREATE THOSE LAMPS?
My inspiration for my collection of "recycle lights" started in a design workshop in France, Boisbuchet.In the summer there are Vitra Design Museum workshops, and I participated in one with the Campana brothers (Humberto and Campana).Our task was to create anything out of garbage.


WHAT/WHO ESPIRED YOU?
A detail i had to think about was, what the Campana brothers taught me:"To treat trash like treasure", " Treat garbage like gold"and as well i really wanted to get to know the material of the plastic,while working I wanted to find out the character of the plastic, how itbehaves and find out the limits of it. This led me to make chandeliers,cause they symoblize beauty and extravagance.

I love to work with trash and discarded materials to show others the beauty that they may be missing.  I get really energized when I find a trash bin filled with empty bottles—this is often a major inspiration in the design process.I am often inspired by the materials.  Sometimes I find the materials and they lead me to the design and sometimes I have a vision of what I want to achieve, sketch it out, and then find the materials.  But the process always flows and the inspiration can come from my own impulses first or from what I might see in the materials.


HAVE YOU EVER USED RECYCLED MATERIAL BEFORE AND IN PARTICULAR RECYCLED MATERIAL?
Yes I worked with recycled materials before in my internship in Brazil. There is a designer Aguida ZAnol, in Belo Holizonte. She has a studio called Reciclar-T3 and that is her technique to reuse old materials. 
Thank you very much Johanna ! 
What is Plart?
Plart is a polyfunctional space dedicated to scientific research and technological innovation for the recovery, restoration and conservation of works of art and design in plastic.
Plart works with universities and the main research centres and aims to be a meeting point in the world of art and design specialising in cultural initiatives: art exhibitions, conferences, creative laboratories, workshops, debates, and training events.
Plart has its own research centre, an events area, a learning space and a permanent exhibition of objects from one of the best-known collections of historical plastic work.
Plart hosts a museum area dedicated to a permanent exhibition of objects and works of art done in plastic. The project for the exhibition structure and preparation of the museum area, entrusted to the ITACA Department of Sapienza University in Rome - was coordinated by the Architect and Professor Cecilia Cecchini with a team made up of Massimo d'Alessandro, Paolo Pannocchi, and Marco Bevilacqua. The exhibition area houses exhibitions of objects and works of art in plastic from the Incutti Collection, exhibited by theme and periodically changed.
Da un mare di petrolio a un campo di girasoli.
From diamonds can not come nothing, from oil may come up a flower. Plart definitely knows that.
In fact Plart is also trying to reach an international position promoting this new extraordinary project created by Id-lab (interactiondesign-lab) which is called Plastiche Alchemiche. It is a new space thought for young people where design combines interaction and multimediality: touch screen, multimedial catalog, thematic setting and more! 
innovative services
aesthetics
languages
communications
multimediality
settings
reuse
sharing
sustainable environmentale
YOUTH 
Watch the video to know more about it !
http://www.youtube.com/watch?v=JnEN7Zbtdlk&feature=player_embedded
Where is Plart?
Yes guys, Plart is in Naples so if you ever would like to go there is kind of far from Milan!
"Mankind will find its future floating on the breath of little children." 
        Eco-design —> Eco-friendly material —> Eco-Sparkling Chair  ! ! !
Called Sparkling chair, the product is made of transparent plastic for Italian manufacturers Magis. 
After the moulding process, the hollow spaces are filled with high pressure air to strengthen the design.
The Sparkling Chair is made out of PET and produced using the same blow molding technique commonly used for bottles of water.
After blow molding the legs and seat, the hollow space is filled with high pressure air which creates very strong and structural components.

With this technique the plastic usage is minimal and the total weight of the chair is only around 1kg. Finally the legs are screwed onto the shell.
It's as easy as drinking a glass of water. 
Cool, huh? 
…this is only the beginning, stay tuned!
                                                     QUIT THE BORINGNESS
                                             START THE INTERSTING(NESS)
WHAT HAVE WE LEARNED? 
The Fantastic History of Plastic
How may plastic type exist
How Plastic Recycling works
Why is Recycling Important
                                                                            Who..
                                                                            What..
                                                                            When..
                                                                            Where..
                                                                            Why..
Are we expert about this issue? I don't know..but we surely are taking the right direction
                                                                             But
There is not only trush..
Plastic is not only for recycling
                                                                   LETS CREATE
                                                                   LETS INNOVATE
                                                                   LETS IMPROVE